Probably the most useless yet fucking interesting site you will ever visit.
Kwelbz.com
It's kind of like bingo, where you think you might win something, but you just end up hanging out with several elderly folk and hear stories about how they met napoleon. We study some phenomenon..
"Satisfying your mom since 1996."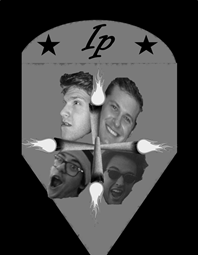 Dan E. Pasteman (CEO/Individual skilled in burning office supplies and creating animated fruit men.)
Cool Guy (Logistics/Guy we put on billboards throughout the city wearing a unitard made with human skin.)
Johnny D. (Human Relations/Extraterristrial Relations/Guy who has the cattle prod for unruly interns)
Polly P. Pasteman (No relation to Dan E. Pasteman)(Vice President of sales/Man who shouts babble into a megaphone from the roof to terrified pedistrians below.)